Free codes November 2023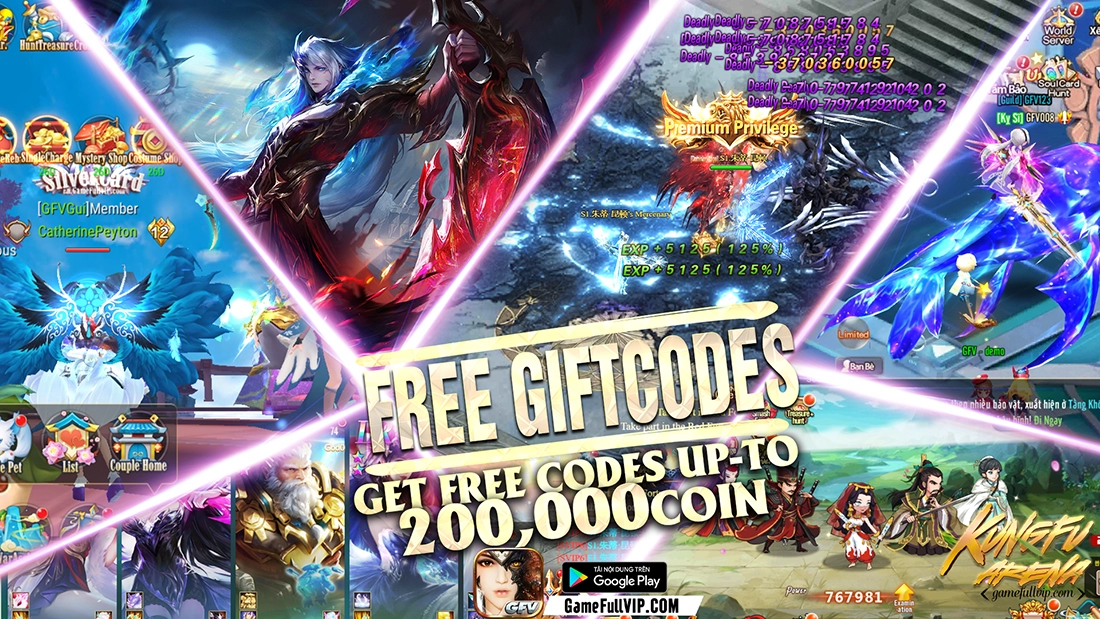 Hello,
Starting NOVEMBER 2023, we will send you lots of free codes and bonuses for FREE PLAYER (VIP0)! You will receive more if you top up and increase your VIP level on the website.
Please comback in middle month - there are lots of codes for you!
-----☆☆☆-----
Discord Server: 
-----☆☆☆-----
1. FREE CODES 25.10-12.11
(beginning of the month)

Here is the list of free codes (image) for all ENGLISH games: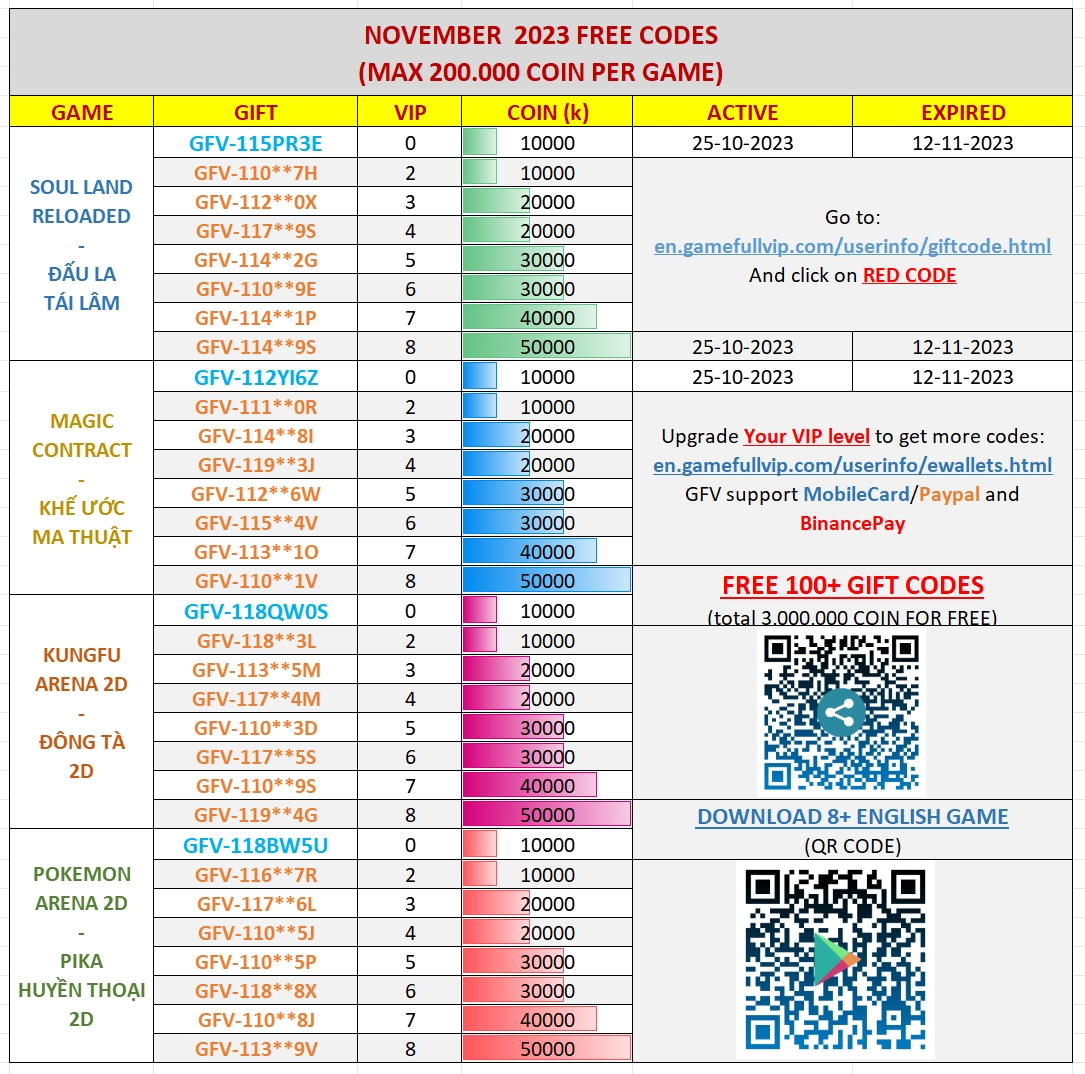 -----☆☆☆-----
2. FREE CODES 14.11-24.11
(middle of the month)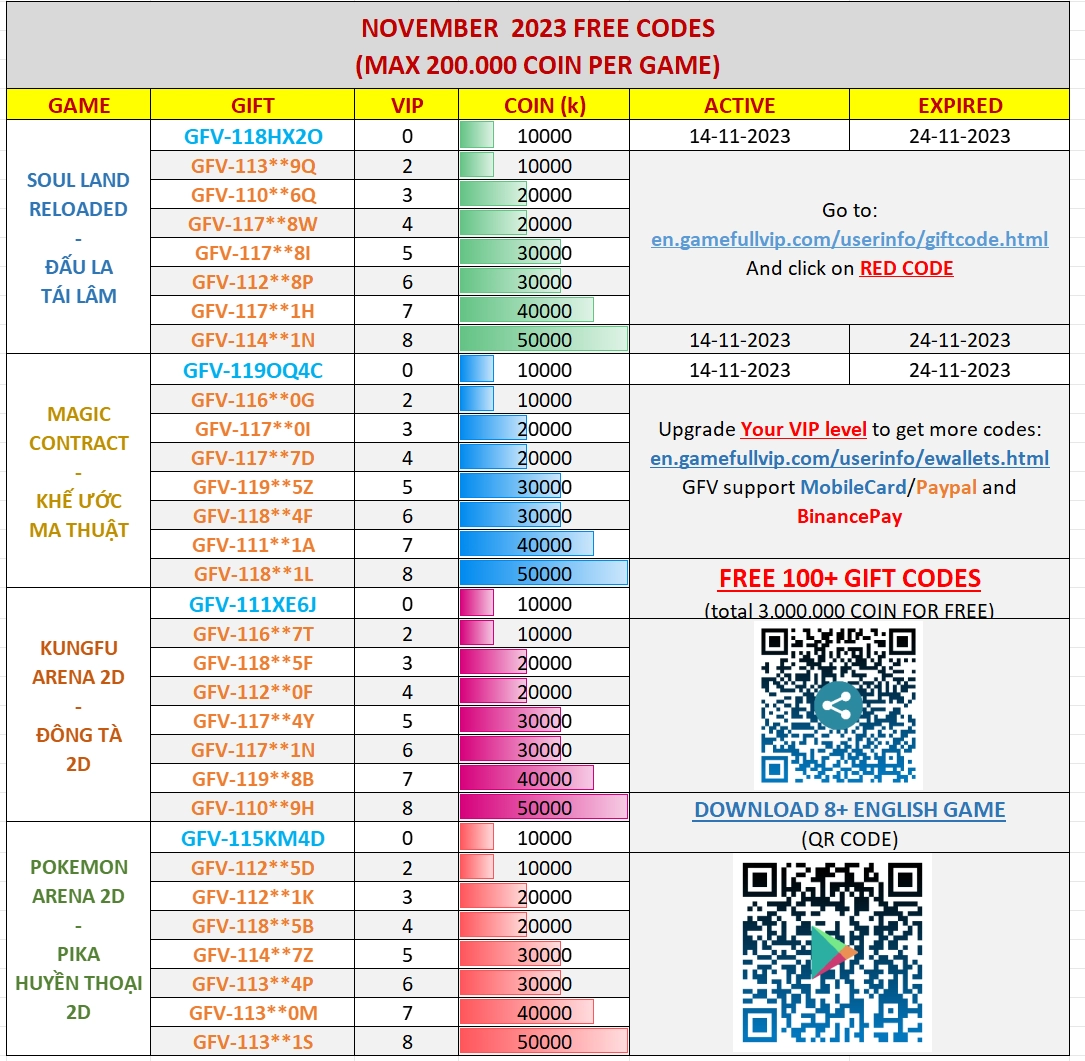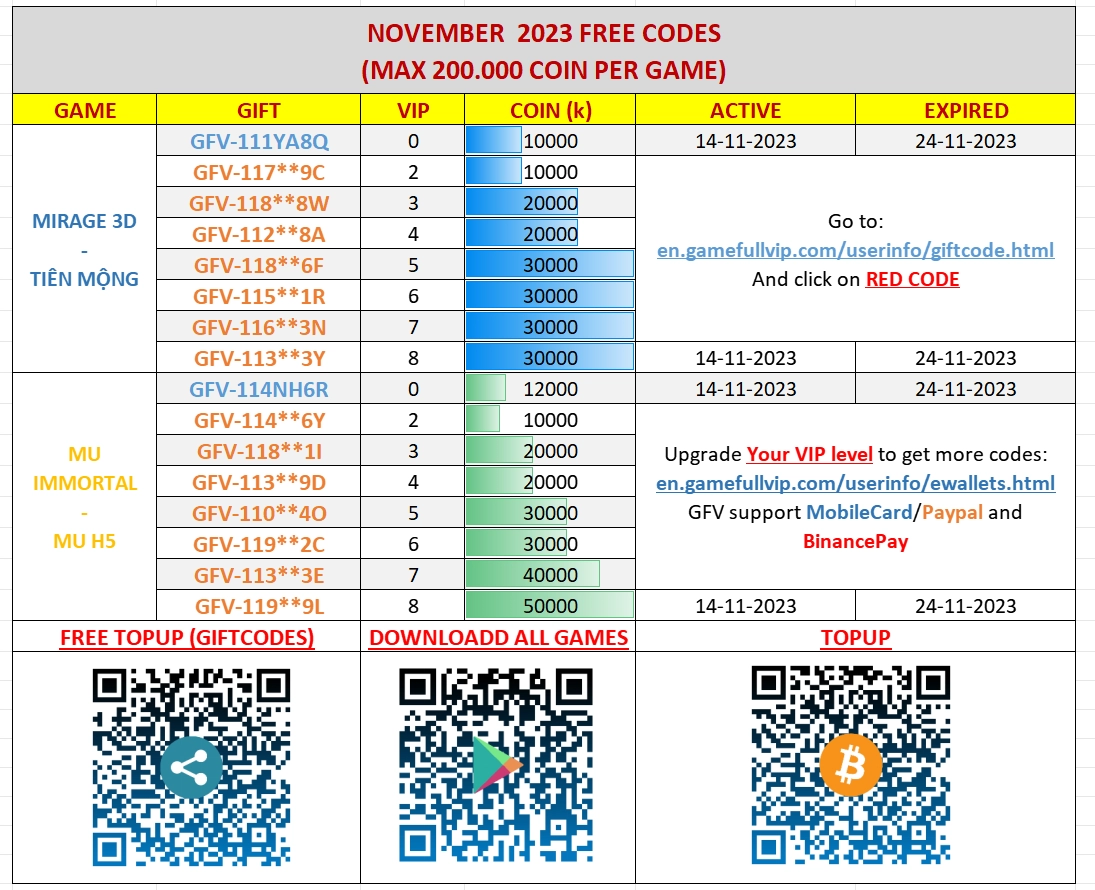 -----☆☆☆----- 
These codes from VIP0 to VIP8 for many games:
- Mirage 3D
- MU Immortal Legend RPG
- Pokemon Arena 2D
- Kungfu Arena 2D
- Magic Contract 3D
- Soul Land Reloaded
(and more game...)
A single game can get up-to 200.000 FREE COINs (Giftcodes). For 6 games, total = 1.200.000 COIN!
Video guide:
-----☆☆☆-----
3. UPGRADE VIP LEVEL (web)
If you want upgrade your VIP level (website wallet), here is the total value: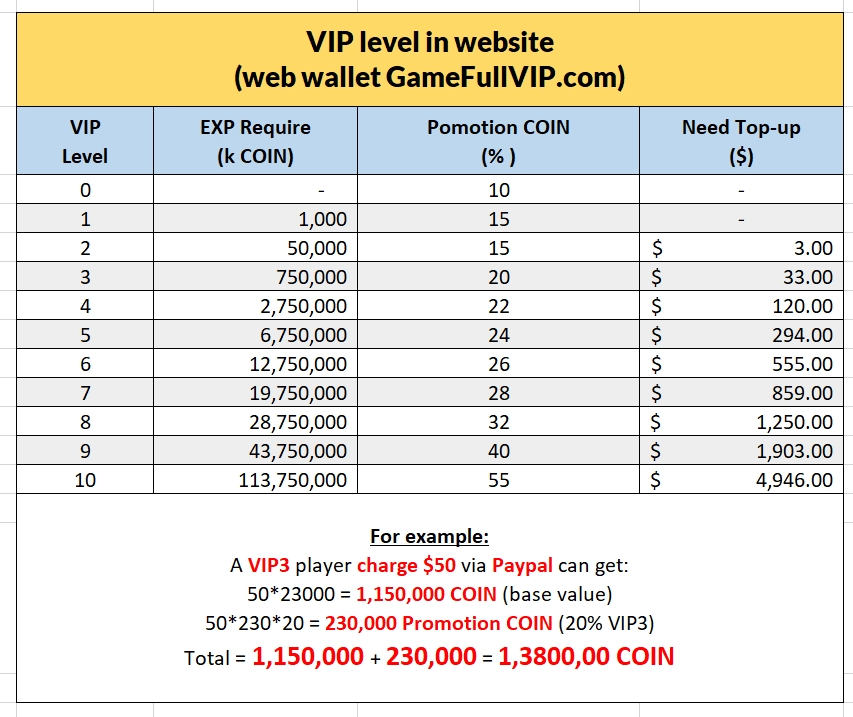 URL top-up (Paypal/Crypto/Vietnam Mobilecard): 
en.gamefullvip.com/userinfo/ewallets.html
-----☆☆☆-----
4. TOPUP ACTIVITY

Also, accumulation activities which give you 35-60% extra promotion COIN :
Start: 00h00 17.11.203 (GMT+7)
Expried: 23h59 22.11.2023!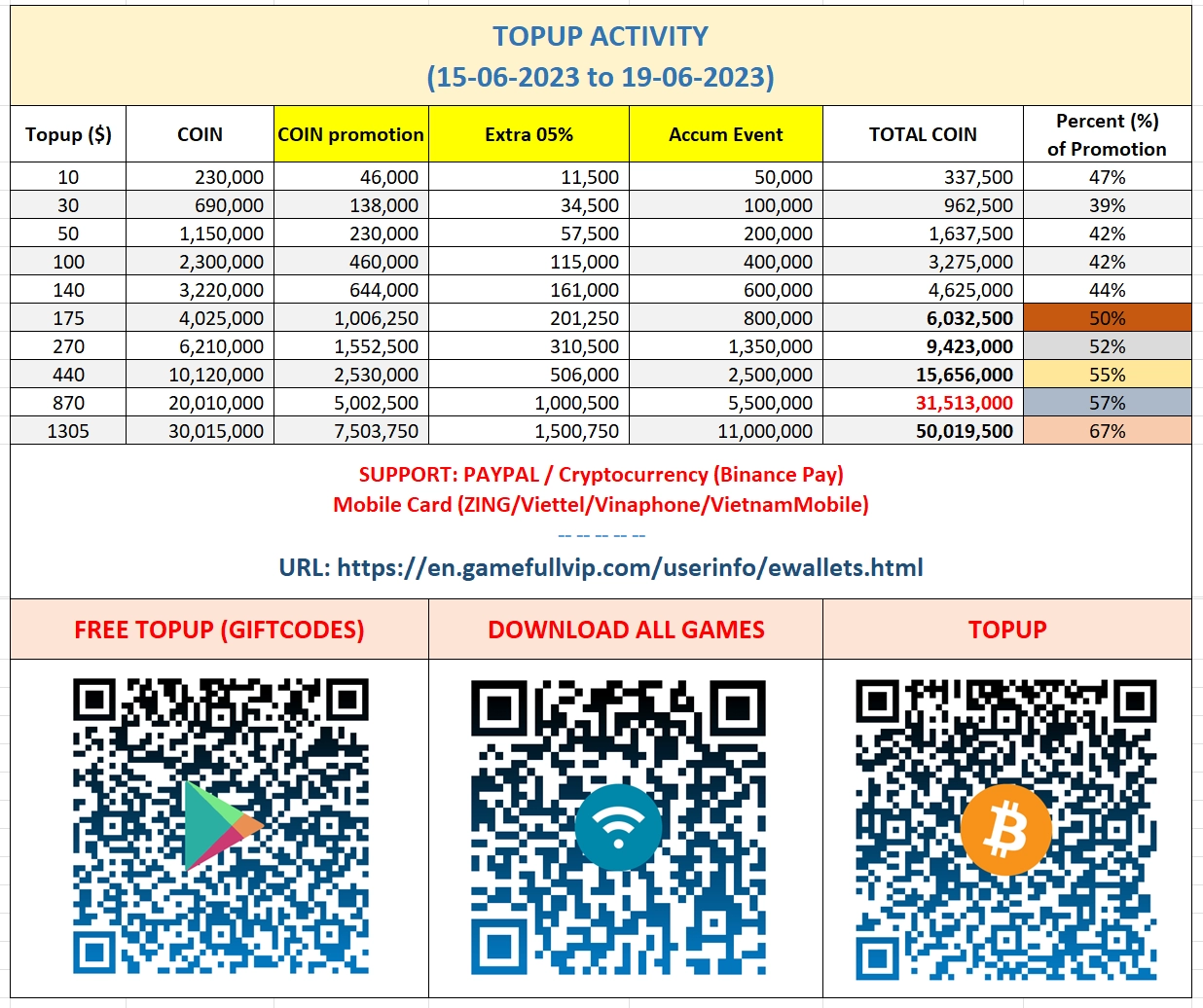 URL of accumulation activity:
 en.gamefullvip.com/userinfo/accumulation.html
Please upgrade your VIP and take all reward!
-----☆☆☆-----
5. ATTENDANCE EVERY DAY
Access this URL: 
en.gamefullvip.com/userinfo/events.html
Upgrade VIP and get FREE COIN (up-to 8k COIN/day). Very simple (event start in the first day of the month)!
Thank you!